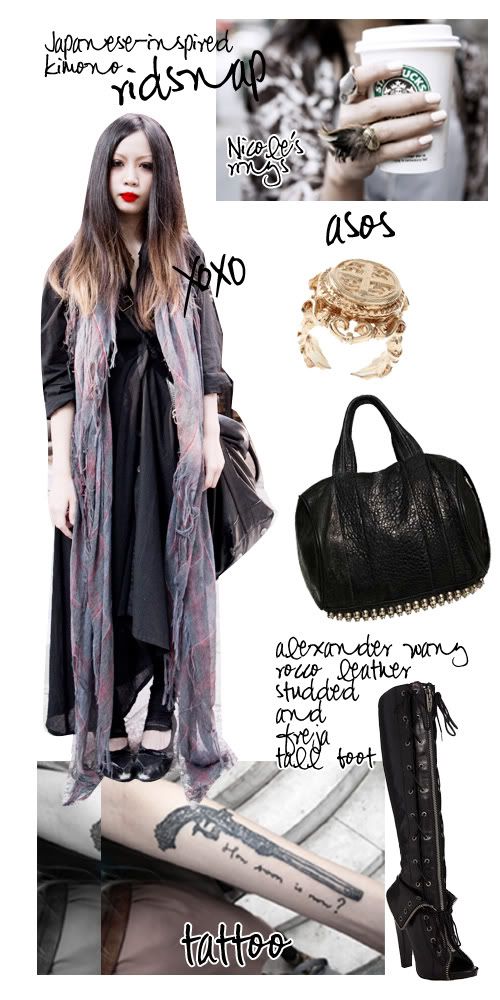 I've seen many bloggers do this so I decided it's time I share something of my own ((smirks)). Harajuku/Shibuya streetwear has always been summat tantalizing - free of rules, excluded from western influences that no one seems to conform.
Japanese-inspired kimono dress: not something I'm looking forward to buy but something I'd make myself. DIY can be the most mesmerizing thing us fellow bloggers can share. I want on my own wardrobe to imply my individuality. I can wear it 366-day no sweat as long as it feels like "me".

Nicole's rings: I want them both! Just the minute I saw it I know I'm compelled, twisted, love-blinded.. Yes, been there. I'm a huge fan of caffein that if it were serious I would have to get a rehab. But then again, shopping is cheaper than therapist.

ASOS ring: beautiful and unique. (I need to suppress my shopping urges.)

Alexander Wang Rocco leather studded: saving. I'm a slave for leather wear and not Britney-ish either.

Alexander Wang Freja tall boot: not necessarily needed be from our lovely Wang but what I love is the style combination of ankle lace-up and tall boot.

Tattoo: I'm looking forward to getting one of my own, smaller ones below my belly and upper arms. Not sometimes soon but I'd love to get them. :)
Almost forgot, my first e-magazine is being launched tomorrow. I'll see you soon?
xx